Stay in or stay out. Just stay put while Hunter's simple ET system does the work for you.
No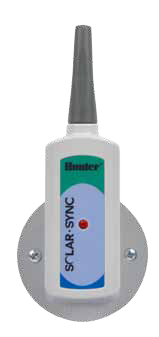 w smart, weather-based control is available
The Solar Sync continually gathers on-site solar and temperature data used in the calculation of vapotranspiration (ET), then determines watering requirements.
The module automatically calculates water requirements and makes adjustments taking into account your regional weather characteristics.
FEATURES
Sleek
Compact sensor design.
Simple
Easy installation and programming.
Smart
Automatically adjusts controller watering for increased efficiency.
Synchronous
Integrates seamlessly with compatible Hunter controllers (look for the "Compatible with " indicator).